How Do You Make Shade Cloth For Your Garden?
May 20, 2020
Shade cloth in the backyard is used to protect the plants from intensive heat. 
The growth of your plants is sometimes dependent on the amount of heat you prevent from coming to your plants directly from the sun.
This is used to control the diffusion of light, provide ventilation for plants and improve the growth of the plants.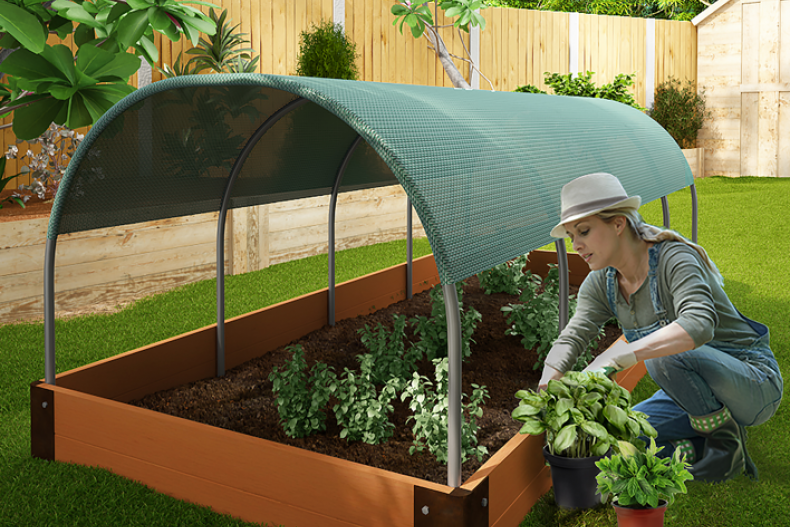 To make shade cloth for your plant at the garden, is to construct a frame around the plants you want to protect from direct sun. measure the length, breath, and height of the frame to get the exact cloth that will cover it properly.
Once you are done, cut the type of cloth you wish to use and place it on the flame. Get a cord to tie the edges. You can also use stake to make the shade strong against any unannounced weather like wind.
The essence of this, is to shade your plants from the intensive heat and increase the rate of it's growth.
The Benefits of Shade Cloth
Shade cloth does a great job, by improving the plant productivity. Some time, it's not just the plants, but also reduces your work in terms of continuous watering of the plants.
Most times, when there is an increase in temperature, evaporation places, which is called photosynthesis. This calls for often watering of your plants.
Shade cloth absorbs moisture, which keeps plants under the shade cloth looking healthy and brighter than those plants not under the shade cloth.
Here are some of the benefits of constructing shade cloth in your backyard for proper plant's growth.
Shade cloth allows morning sun to provide plenty of energy through photosynthesis without the excessive heat stress from prolonged all-day sun exposure
Shade cloth provides shade for plants, which reduces the amount of moisture loss through transpiration (evaporation of water from plant leaves).
Shade cloth makes areas that have temperature of 100℉ to become 10℉ cooler therefore plants that find it difficult to glow around temperature of 100℉ can then glow faster.
Shade cloth has the capacity to reduce the amount of radiation that reaches the plants directly.
Plants that are under shade cloth enjoy reflection of solar radiation.
Color of Shade Cloth
Shade cloth colour plays a major role in the growth of plants. That's why it's important to consider the colour that will increase the rate of germination of your plants before shade it with any colour cloth.
Also study the plants to know the shade cloth colour that will be effective when it's under the shade. Choosing the right shade cloth colour will make a big difference to a specific plant.
There are 2 most common colours of shade cloth, which are:
Though, there are other colours like white, red, yellow, and blue.
There is another type of special shade cloth colour is called aluminet cloth. This can be used as an alternative for black cloths.
So, when choosing a shade cloth colour be mindful of ventilation because not all shade cloth colour allows proper ventilation.
Ventilation is very important and not all shade cloth colours give plants sufficient ventilation. Choosing a shade cloth colour is not just the colour you feel that's good but the one that will make plants receive enough ventilation.
It's advisable to use lighter shade cloth colour because this gives plants more ventilation during heat from the sun.
Different Types of Color Shade Cloth
For the purpose of ventilation and growth let us quickly look at different types of shade cloth colors. 
Each shade cloth color has its own functions in the life of plants growth, and productivity. Here are few types of shade cloth colors:
White color shade cloths 
This colour reduces the quantity of light that comes directly to the plants, but not the quality of the light spectrum.
White shade cloth allows rapid growth of plants and is mainly used for flowering plants.
Dark colour shade cloth
Dark colour shade cloth absorbs sun's heat while the light dark shade cloth colours reflect the sun's heat. Unlike white shade cloth.
the green and black that act like filters and don't allow plants to receive much sunlight.
Aluminet shade cloth
This aluminet colour is used to protect plants against front radiation damages and against oxidation.
This shade cloth is high-density polyethylene (HDPE) knitted screen.This also offers a cooler effect for the plants.
However, colours such as red can benefit specific plants by filtering different wavelengths of light.
Types Of Shade Cloth Materials
There are two types of shade cloth materials, the application of these shade cloth depends on the plants.
Don't just apply any shade cloth material for your plants, but study to know the best cloth that will make your plants produce very well. 
Some plants don't require too much heat, so when you use the wrong shade cloth material, it will delay the plants' growth.
Let's discuss the application of these shade cloth materials for various plants. Read on to know the shade cloth materials each plant needs.
The two types of shade cloth materials are as follows:
Knitted Shade Cloth
Knitted shade cloth is good for extreme hot weather because of the fabric. this increases the rate of plant growth during summer.
Knitted materials speed up the healthy condition of a plant during hot weather.
Knitted shade cloth is made of polyethylene material — suitable for a variety of application like:
Greenhouses
Hot houses
Shade houses
Knitted materials have the capacity to resist tears, fraying and unravelling.
The knitted material has interlocking loops of yarn that allows winds to pass through without necessarily destroying it — knitted shade materials reduce heat build-up and wind speed inside.
Knitted shade cloth doesn't allow most horticultural chemicals and detergents because the material used in making it — it has a longer lifespan than woven shade cloth. Knitted shade cloth can be stretch for 2-3% elasty or shrinkage.
Woven Shade Cloth
Woven shade cloth is airly in nature which is mainly applicable to most plants.
Woven materials is made of 100% polypropylene, this make it good and suitable for a variety of applications, which includes:
Solar protection for plants
Privacy screens
Wind screens
Pet Kennels
Shading for patios
However, woven shade cloth is heavier than knitted shade cloth. Woven shade cloth accommodates more heat builds-up than knitted shade cloth.
Woven shade cloth has UV capacity to withstand the extreme sun exposure. You need to tighty the edge to avoid fraying, and disentangle.
Note that woven shade cloth has minimal stretch or shrinkage than knitted materials.
What Densities of Shade Cloth Does Your Plants Needs
The density of your shade cloth determines the amount of sunlight that will pass through to your plants.
If the density of the shade cloth is high, then sunlight penetration will be low — therefore, your plant is what determines the percentage (density) of shade cloth you need to cover it with.
Every plant needs sustainable sunlight to grow. Sunlight aids photosynthesis. So, for your plants to get the required amount of sunlight you need the right shade cloth.
Therefore, the type of plants you cultivate is what determines the required shade cloth. Preferable, always go for a low density.
As we all know, sunlight is so crucial to a plants' growth, so choose the right density and as low a density as you can get away with.
According to C-Mac, shade percentage of 30-50% is ideal for vegetables, while 80-90% is ideal for sheltering people. Most plants will do best with a maximum of 40% – 60% shade.
However, when growing some shade loving plants such as orchids and some ferns, 75% or higher may be needed to get correct light levels.
The table below show the shade cloth density suitable for your plants
| | |
| --- | --- |
| 40% – 50% Shade Cloth in Green Colour (Suitable For:) | 70% – 80% Shade Cloth in Green Colour (Suitable For:) |
| Geraniums | Livestock Shading |
| Caladiums | Domestic Shading |
| Irises | Use as awnings |
| Azaleas | Use as a Protection barriers on buildings |
| Begonias | Olive trees |
| Lettuce | Lettuce |
| Nursery stock | Spinach |
| Peppers | Orchids |
| Cabbage | Some Ferns |
Conclusion
Shade cloth is very good for plants, it helps to prevent the amount of sunlight heat that comes to plants.
It's most effective when you choose the right shade cloth for your plants — they're of different density. Mostly, it's advised to choose low density shade cloth.
Shade cloth helps to improve the growth rate of plants. So, if your plants experience delay in growth, then consider using shade cloth to control the amount of heat from the sun.